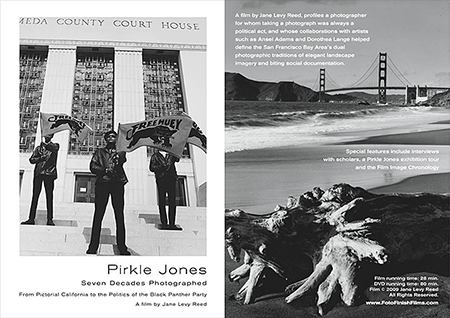 Pirkle Jones: Seven Decades Photographed
From Pictorial California to the politics of the Black Panther Party

A film by Jane Levy Reed

Profiles a photographer for whom taking a photograph was always a political act, and whose collaborations with artists such as Ansel Adams, Dorothea Lange, and his wife, Ruth-Marion Baruch, helped define the San Francisco Bay Area's dual photographic traditions of elegant landscape imagery and biting social documentation.
My Eyes Were Fresh: The Life and Photographs of John Gutmann

A film by Jane Levy Reed

In 1933 John Gutmann was forced to leave behind a promising career as a painter in Germany to start a new life in the United States. My Eyes Were Fresh is a profile of an artist who made an important contribution to the history of modern photography and forged a link between European modernism and the burgeoning artistic culture of San Francisco.